I love gear and data! I really like having all sorts of data elements recorded during my training. I don't use that data as much as I probably should, but I enjoy looking at it.
Here's some of my gear and tools that I choose to not live (or train) without.
Hoka One One: I've really taken to trail running and ultra marathons. I think it probably started with the Jerome Hill Climb, a race up the side of a mountain in Jerome, AZ that the Arizona Road Racers as hosted every year for the past 30 years or so. It's hardly a trail race, but rather a steep 4.5 mile run up a dirt road through the historic mining ghost town of Jerome. This led to running the Grand Canyon Rim2Rim2Rim a couple of times. Thus far, my most difficult ultra has been the Zane Grey 50 along the Highline Trail starting in Pine, AZ. As the name indicates, this is a 50 mile race, so it requires allot of trail running training miles. I bought my first pair of Hoka's after winning a gift card to Tortoise and Hare sports in November of 2012. I've never looked back. I love the Hokas for trail running. So much less fatigue! I'm running in the Stinson Evos currently.
Data: My wife had just purchased me a new Garmin Forerunner 410 for my birthday in December. Some of the newer Garmin models have the touch-bezel. So, you control the watch by touching the bezel. I didn't like it. Even after allot of practice, it's just not easy to use. Adjusting the watch or brushing it against gloves or other gear can "set it off" doing something you aren't wanting it to do at that time. After 4 four weeks, the 410 also stopped taking a charge. So, it was dead. Fortunately, we bought the watch from costco.com (I love Costco), so returning it was a breeze. At the time I bought the watch, Costco.com only have the 410 and 610, a fancier touch-bezel 410. This time though, they had the 310XT which is touted as Garmin's multi-sport unit. I love it! It's not as pretty, but who really wants a pretty GPS watch. When out on the trail or bike, it's functionality that's important.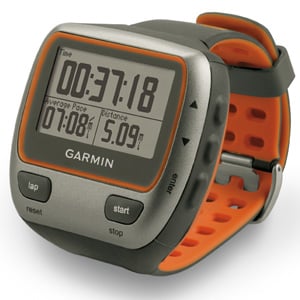 Bike: I really enjoy my time on the bike. Since my races consist only of running these days, I guess you'd have to say I use cycling as cross training. I treat it as more than that though. I take cycling rather seriously. I ride anywhere between two and six days each week, ranging from 50 – 200 miles each week. I've gone through a few bikes in the past year. First I had a Scott Plasma tri bike. It was wicked fast, but not so comfortable for longer rides, nor hills. I ditched that for a Fuji Team Pro. Fuji makes a really nice bike at a great price point. The price point fits cyclists who want a pretty nice carbon frame, I'd say higher than the oft-used "entry level" phrase, along with a great component groupo. Usually a fully Shimano Ultegra full carbon Fuji can run under $1500. A great deal. I wanted something a little nice and little more comfortable. I'm now on a Pinarello FP Quattro. It's by far the nicest bike I've ever owned, in front of my former favorite – Cervelo Soloist, which I completed Ironman Arizona on in 2005.